Twitch is an online platform that provides services to a community of gamers and streamers. People stream their games and connect with other gamers and streamers around the world. Just one click on your browser opens a world where you can communicate with millions of people with the same interest in the game you are playing or related games. You can watch other gamers and learn their strategies, or they could watch you play video games where you can share tips through Twitch platform. Before you give up, check how our guide on how to become successful on Twitch or how to get more viewers!
If you are trying to disable your account or completely delete a twitch account just follow these simple steps. Just know, once you delete an account it will be gone, permanently. Deleting your Twitch account will also erase your personal information, including your saved video highlights, followers or subscribers in your channel, and clipped content.
Maybe it came to the point where streaming or watching streams does not excite you like before. You may have new exciting stuff in life that Twitch is becoming more irrelevant. There comes to a point where you are not active anymore and sometimes forgot your Twitch account.
Another reason would be, you found another app that caters more to your games or video games streaming interests and you don't want to go back to your personal twitch account. Maybe you would want to continue your gaming but do not want to stream videos anymore, so your twitch account is not necessary anymore. Whatever your reason is, we are here to help and support your account deletion
If you realized you're having too much time spent on the internet, and want to ponder on things you are missing in life. Maybe you don't want to delete your account but disabling your account would be a good idea.
If you disable your Twitch account, it will temporarily remove your profile from searches and you won't be able to log in to your twitch account, chat with your online friends, or use your account as you normally do. This is your best option if you want to come back later on.
Disable your Twitch account
Follow these steps if you want to disable your account and get that long due alone time you have been waiting for.
If you want your account disabled:
Search and go to the Twitch website and sign your account. You won't be able to disable your account using the app you installed on your desktop (Windows or Mac), iPhone, Android, Firestick, Roku Device, or Apple TV.
Once logged in, head over to the upper right corner of the page or corner of the screen. This is where you can locate your profile icon.
Click the drop down menu and navigate for the account menu 'Settings'.
Scroll down to the bottom of the Twitch Settings page and look for the 'Disabling Your Twitch Account' section.
Below 'Disabling Your Twitch Account', look for and click the 'Disable Account' link that will lead you to the final process of disabling the account.
Review the username that you are going to disable to make sure you are disabling the right account if you have multiple accounts
Twitch website screen will ask your password, this is to ensure that the owner of the account is the one disabling it.
An optional step is to provide your reason in the "Tell us why you're disabling your account" section.
After those simple steps, click the "Disable Account" button to finally disable account.
Disabling your Twitch account will log you out of your account and temporarily pause all your activities in your personal Twitch account.
If you want to reactivate your account, you can have access again to your account when you sign in. Logging in using your username and your password would reactivate and enable again your Twitch account for free and no hassle anytime you want.
You will be asked if you want to enable again your account, click "Reactivate" to reactivate your account, and retrieve your disabled Twitch account.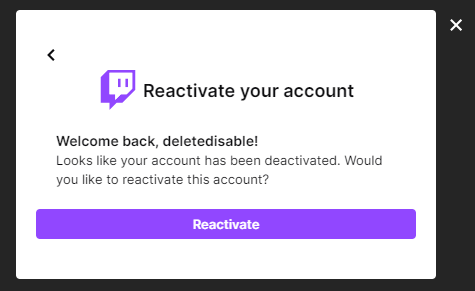 You can now go back to your previous Twitch activities.
Delete your Twitch Account
If you are really decided to have zero screen time and interaction with your Twitch account, to delete your twitch account is your way to go. Disabling lets you reactivate your information, but deleting a twitch account will permanently and clears 100% of your data. Once done, you won't have any way to retrieve your data.
Make sure that before you delete your twitch account that you saved on your storage all your important videos, files, and content. Did we already mention that if you delete a twitch account, all your chats with your online Twitch friends, Twitch subscribers on your channel, and Twitch mutuals information will also be deleted.
Your user ID will be given to new users once recycled. If we have reminded you enough of all the things you will be losing if you delete a twitch account, you might want to just disable your Twitch account than deleting it.
If no reason, benefits, or options available could stop you from deleting your Twitch, we fully support you and we are willing to help you. We fully back up your decision.
How to delete Twitch Account
Before deleting your account, make sure to inform everyone you know in Twitch of your decision. This will help them not to worry. You must also notify your streaming engagements so you won't have much trouble after deleting your Twitch account.
Deleting your Twitch account is not possible through settings. Deleting Twitch account option is not available immediately to prevent users from their impulsive decisions.
Having a bad day? Nope, deleting your account is not the answer. Tech boyfriend and annoying partner? Nope, can't delete this account, accept my whole tech buff brain and watch streams with me.
But if your decision to delete your Twitch is a rational one, here is your answer.
Follow these steps to delete your Twitch account
Search for website of Twitch on your browser and users need to log in
Users need to click this link: https://www.twitch.tv/user/delete-account, link will open another page in order to advance their account deletion. This link is not easily available on the Twitch page.
Log in using your user ID or email, and your password
Review if the right Twitch username is the one you want to delete, especially if you have multiple accounts
Optionally, you may share the reasons why you want to delete your account
Click "Delete Account" button and it will be deleted
Account Reactivation After you Delete an Account
Your account is deleted in a simple process. If ever you change your mind, Twitch got your indecisiveness covered. Before your Twitch account goes into the void of the internet, your Twitch account is disabled for 90 days. During the 90-day window time, you can still reactivate your account. Just open the Twitch browser and log in using your username and password to reactivate.
FAQs if you want to Disable or Delete an Account on Twitch
How do I look for Twitch Account Settings?
Open the Twitch page and log in. At the upper right corner of the Twitch page is where you can find Twitch settings. Click your icon and drop down menu will trigger. You can find the word "Settings" from the menu icon showing the gear. Click on "Settings" to access platform settings.
How long will Twitch keep other people use my username?
Your Twitch ID will not be able to be used by other gamers or streamers for up to 12 months after deletion.
Are Twitch cookies also deleted upon the deletion of my Twitch account?
No, they are still stored in your storage. To remove these, at the upper right corner of the screen, click More. Go over the settings of your browser and look for More Tools, Clear Browsing Data. Click the box next to "Cookies, and other site data".
Finally, click Clear data. You could search those that are only related to Twitch and other platform or page according to your preferences. Just go over the information that appears on your screen and select from those.
If you have more questions about this article, we have a related article that might help you answer your questions.