Twitch has millions of viewers and users that when you hear the word stream, people will automatically connect it with Twitch. It has an engaging interface toolset for streamers that will enhance their streaming experience.
It offers endless streams of gamers and content creators. Streams on Twitch vary from streaming a League of Legends game to lifestyle streaming content. Whatever your niche is, this article is your ultimate guide in starting your stream on Twitch.
With the popularity of Twitch, you might be persuaded to start your streaming. Streaming on Twitch will help you connect with a community of gamers and streamers. You can improve your skills in your game and learn tricks and tips from other creators.
Twitch also offers an opportunity to earn through your streaming. If you are worrying about where to start, we've got you covered. We will guide you on Twitch Streaming. Once you're all setup, we wrote the best guide to get your more viewers on Twitch.
The first step to your Twitch Stream
Create a Twitch account
Need we say more? The first step is to create your Twitch account. This is the easiest part of the process. The Twitch account you created will be used when you Log in to the app and the account where you will upload your streams.
Here are three easy steps in creating your Twitch account:
First, Visit https://www.twitch.tv/
Next, click "Sign up" on the upper-right corner of the screen

Then, Enter all your required information on the pop-up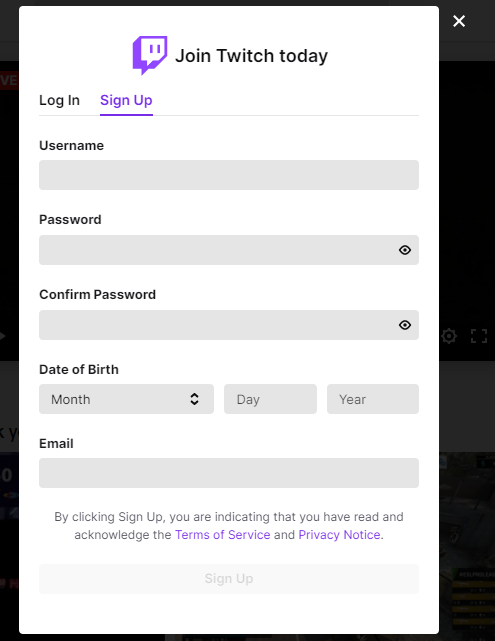 And you just created your Twitch account. This won't take at least three minutes of your time depending on your internet connection.
Make sure you have studied the Community Guidelines of Twitch. You can also enable two-factor authentication where you will receive a code to ensure that it's actually you who is logging in to your Twitch account.
Twitch Account
In order to gather an audience to your channel, include a brief introduction of what is your channel about. This will help your audience and other streamers know what content do you stream on your channel.
Click that share button to let people know from other social media sites that you are now starting a streaming channel on the Twitch app.
Set up your Streaming Device
You have a lot of options on which device to use when streaming on Twitch. You can use a PC, console, or even your smartphone.
For your console streaming, you can use your Xbox One or PlayStation 4 for your Twitch streaming. A mobile phone with the minimum specifications for Twitch streaming would also be a viable option.
If you want to stream on a PC, this will give you more variety in your streaming experience. With a PC, you can choose a lot of hardware to enhance your streams. PC hardware additions can create scenes on your background or music overlays.
Stream on Twitch using a PC
There are different platforms you could choose from, either a PC or a Mac. If you want a high-end streaming quality for your viewers, then a PC is your go-to. PCs can enhance your gameplay by giving you the most options in curating your content. Here are some practical steps when you stream using your PC:
Install Live Streaming Software
OBS Studio. Most beginner streamers opt for OBS studio as their streaming software. It is free open-source software with cross-platform compatibility.
Streamlabs OBS. This is a Streamlabs edition of OBS studio with great features, but only available on Windows. Here is an article about setting up streamlabs and OBS for Twitch.
This is additional broadcasting software that allows users to record or live stream and plug into your stream on Twitch. It is the most used streaming software, especially for those who invest in paid versions.
XSplit Gamecaster has a free account on default but if you want to enhance your streaming and gameplay, you can purchase the paid version for $5 a month.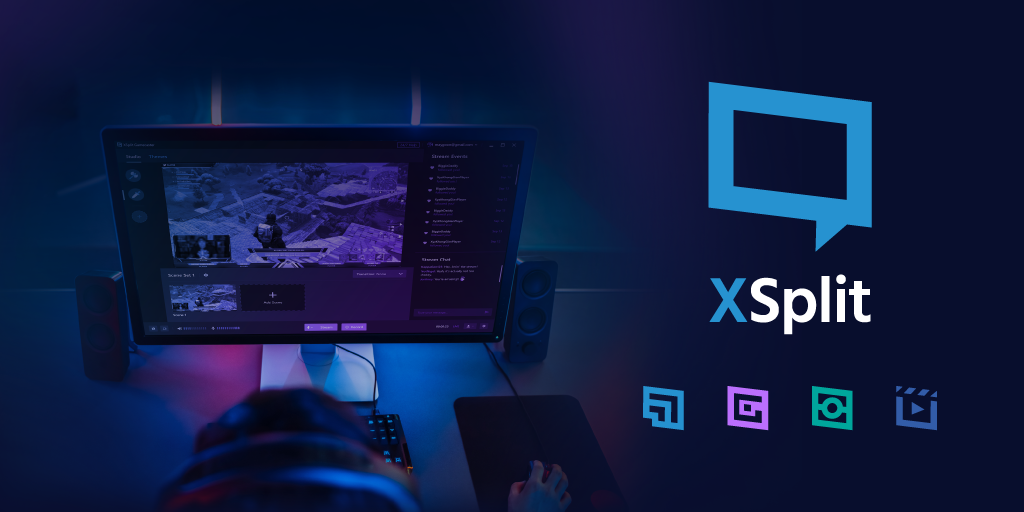 vMix. This is your option if you already have a background with streaming and already considered as a pro. Vision Mixer allows you to switch inputs, mix music or audio, record outputs, and live stream camera, audios, videos, and more in a high resolution.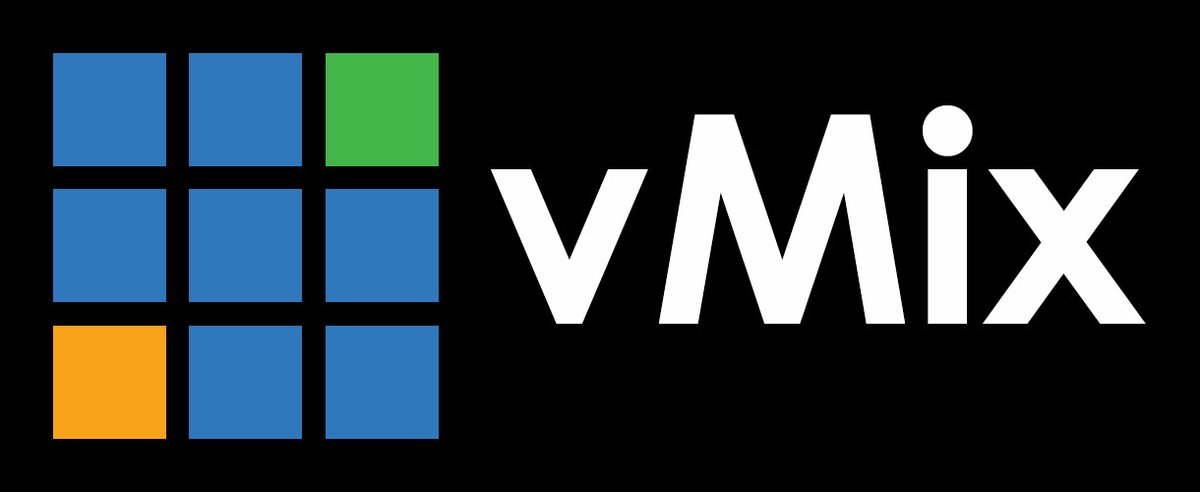 Choose your preferred hardware
Your hardware determines your production value. You can increase it over time as you progress in your games and broadcasting on Twitch. No one wants to use sub-par tools, how much more obsolete gears in their game or broadcast.
Thanks to the internet and thanks to a lot of experienced streamers, we have gathered all their tips and expertise so you can know more information than you need in one sitting.
CPU
Have a CPU that can handle simultaneous playing games and streaming games. It will take much of your processor's resources. If you broadcast gameplay with a sub-par CPU, it might cause some lagging. Games usually have large files so you need to equip a high spec CPU.
Graphics Card
Nvidia RTX video card is a good choice for streaming. GPU has thousands of smaller cores that are uniquely designated to perform visual tasks for a high-quality stream.
RAM
You need a higher RAM if you are going to stream. Having lower RAM would take your PC to load longer. You don't want to waste your time waiting for a site to load. If
Camera/Webcam
One advantage when you want to stream games on Twitch is having a webcam. While some other streamers don't put their faces on their stream, having a webcam placed would seem more engaging with your audience.
People not only want to see your gameplay but also something about how is your real reaction while playing. You may opt for a low-quality webcam and upgrade later on.
Microphone
One might not consider this but viewers not only want to hear some music and the sound FX of the game you are playing. The audience also wants to hear your opinion and reaction while you broadcast gameplay. You need a good mic for clear audio quality so your audience can hear you more loud and clear during games.
Streaming Setup
You could have two PCs, one for gaming and the other for streaming and encoding. Another gamer could also recommend a dual monitor for your gaming and streaming setup. You could also use Mac or laptop in your streaming setup.
Internet Connection
The overall performance and quality of your stream depends on your internet connection. If you have a slow internet connection, your game and stream will be prone to buffer which lowers the quality of your stream.
Set up your Stream on Twitch
Upon opening Twitch studio, it will run a system quality diagnostic to check your internet bandwidth and computer spec to recommend stream quality settings that best fit your equipment.
You can change the recommended stream settings by Twitch depending on your preferences. Furthermore, the system might warn you if you go higher than what your equipment can handle. Your stream quality affects the viewing experience of your audience. Some viewers only watch on their mobile app, which might cause some buffering if they have a slow internet connection.
Stream Key. You can find your stream key in Twitch's channel "Preferences" menu. Steaming apps will first ask your stream key before letting you go live. Some other streamers require your stream key in order to unlock unique features.
Edit Stream Info. Before clicking that share button or the "Start Stream", make sure to edit your stream information. Write something about what you will share for the stream you are sharing. This is your way to grab the attention of your viewers. The more related descriptions you have, the more influence you will get when people search your category.
Stream on Twitch using a PS4
In this article, we will provide you a list to follow in order to stream from your PS4.
Disable HDCP. HDCP must be turned on if you are watching content like from Netflix, but it must be turned off when streaming. You can find this on Settings under System.
Set up your mic and camera. Under 'Devices" on settings, you can find options for your mic and webcam. But, take note that PS4 does not support any webcams other than the PlayStation Camera.
Enable Audio Sharing. When you open the game you want to play and stream, press the share button on your controller and go to Sharing and Broadcast settings then to Broadcast Settings, under Advanced Settings is where you can find Audio Sharing Settings where you can enable sound from your microphone during the broadcast.
Enable chat. Also under the Advanced Settings in Broadcast Settings is where you can tick the "Display Messages to Spectators and Spectator Comments" box to enable the chat.
Connect your PS4 to your Twitch Account
As you share your broadcast, PS$ will ask which platform you would like to share your stream. After selecting Twitch, you will be required to connect the console to your account either by a QR code or by going to "twitch.tv/activate" from your mobile or a computer and enter the code you'll see on the screen.
Start Streaming with your PS4
After you have checked your streaming settings and selected the quality you want for your stream, you are ready.
Stream on Twitch using Xbox One
You can also use your Xbox One as your broadcasting device on Twitch. Unlike PS4, connecting on Twitch will require you more steps to follow than usual.
Install Twitch App
Go to the Xbox store, search for the Twitch app and install it.
Connect your account on the Twitch App
On all devices, like any other apps, you need to connect your Twitch account. You will be needing your Twitch mobile or Twitch from a computer. Upon opening Twitch on Xbox, you'll get a six-digit code that you need to enter on "twitch.tv/activate" using your phone app or your computer.
Set up your devices
When using Xbox, it can support any webcam for your video. It also supports all sorts of microphones and headsets. Connect all your devices and enable your microphone and webcam on the settings.
Set up your title
Twitch streams have titles, tags, and descriptions so you can catch the attention of another gamer or people depending on their categories of choice. After setting up the title, you can now stream on Twitch.
Stream on Twitch using a Smartphone
Though PCs and consoles offer flexibility when it comes to hardware, smartphones are also a viable option for streaming on Twitch. Smartphones are beneficial especially if you want to stream but on a tight budget. We wrote a guide to start streaming on twitch on your mobile phone too!
Download the Twitch App
First, download and install the Twitch app using your Apple Store or Play Store.
Log in to your Twitch Account
You need to connect your account to the platform and go through the two-factor authentication process.
Tap your profile for the menu
Next, tap your icon on the upper-right portion of the screen. You will be redirected to a screen where you'll be able to see a "Go Live" button.
Allow camera and microphone access
As you tap the "Go Live" button, you need to allow Twitch to have access to your camera and microphone.
Set up the stream
You might want to give your stream a title and select which category your game or stream belongs to, that way people will be able to search for your game even if they don't know you.
You can also share a link to your game that you will stream to your social media apps to gather more viewers. Finally, after setting up your stream, open your game and press that "Start Stream" button.
TwitchStudio
TwitchStudio is a free streaming application designed to meet new Twitch users that want to venture into broadcasting their games. It allows content creators to broadcast directly from Twitch. TwitchStudio also provides a guided and intuitive experience when content creators set up their broadcast.
How to install TwitchStudio
You can download TwitchStudio from twitch.tv/studio.
After downloading, run the installer and sign in using the Twitch account you created.
With just these two clicks, you have a free interactive broadcasting application to allow you to broadcast without hassle especially made to accommodate new content creators on Twitch.
System Requirements for TwitchStudio
TwitchStudio provides a minimum and recommended system requirements for TwitchStudio
TwitchStudio Minimum Requirements:
OS: Windows 7 64-bit
GPU: Direct X 11 compatible
RAM: 4+ GB (2GB free)
CPU: 4 core Intel or AMD
TwitchStudio Recommended System Specifications:
OS: Windows 10 64-bit
GPU: NVIDIA GTX 10 series or newer
RAM: 8GB+
CPU: 4 thread Intel or AMD
The minimum and recommended system requirements for TwitchStudio may vary depending on the stream quality settings, and the game you are currently broadcasting. The more intensive your game is, the more it will require better system requirements in order to perform quality video gaming.
TwitchStudio: Known Issues
Up to the present here are the known issues when using TwitchStudio:
Unable to capture a game, app, or window
You need to add a screen share or main screen share layer to capture a game, app, or window in TwitchStudio. What you are trying to capture might not work properly in some cases.
Here are some reports regarding this issue:
Google Chrome, Firefox, and other browsers
Destiny 2 and other games that block Twitch's capture injection process
Wolfenstein
If this happens, submit a bug report to the development team so you can help in improving your experience in the future.
Twitch Studio's Supported Capture Cards
Elgato:
HD 60S
HD 60S plus
HD 60 pro
HD 4K pro
Screen link
Avermedia:
Live GamerExtreme 2 (GCS51)
Live GamerUltra (GC553)
Live Gamer Portable 2 Plus (GC513)
Live Gamer Mini (GC311)
Live Gamer HD 2 (GC570)
Live Gamer 4k (GC573A)
Razer:
Frequently Asked Questions:
What content should I stream on Twitch?
This is a personal choice you need to make. If you want to stream, we are sure you want to stream content that you really like. Look for something that makes you stream for hours without being bored.
Make streaming like your hobby while earning. there are a lot of channels that focus on one category only. Your games should be your art, and stream as your passion.
How will I make money on Twitch?
There are a lot of options on how you can earn on Twitch. For an instance, if you have enough people, you can have affiliate commission through links.
Another way is to look for sponsors of your stream. People could also donate Bits to you or subscribe to your channel. Also, one way to earn on Twitch is through Ads revenue. You can also look for partnerships or look for suppliers for your Merch. If you don't think streaming is right for you, we wrote an article on how you can make money playing video games and in the gaming industry.
How to make your stream look engaging?
The look of your stream will depend on your tools and gear you have. Some streamers use software to enhance their background. One way you can do this is set up scenes or background on OBS Studio before broadcasting for greater effects.
Others have gear and tools like lighting and a cool room interior to enhance their stream visuals. Channels of different content creators use different software and platform to make their stream remarkable.
Some viewers look for the equipment aspect as their reason for subscribing to a streamer. Their high-end tools make them known far and wide on the platform.
How to engage with your audience?
One way to engage with all your viewers is to welcome them to your stream. You could also ask them for suggestions on how you can play your game. Mention new viewers in your stream to make them feel recognized.
The more you connect with them, the more they will be loyal to your games and broadcast. You can also add music to your stream to make them not feel bored if your game is at downtime.
Have a strict game schedule. This will help your viewers create a routine every week and adjust their time to make room for your stream.
What is TwitchStudio for?
There is a lot of broadcasters that want to start their journey but fail to do so because of the complicated process. So Twitch created TwitchStudio to improve the experience of those aspiring live broadcasters by making the process a little less complicated. It also has an interactive guide on how to set up their broadcast.
This is the ultimate support for those new to the platform. New gamers need the much-needed support because they don't have anyone as they were just starting.
Is there a mobile version of TwitchStudio?
Currently, there is no mobile version of TwitchStudio. You can broadcast directly to your page using your phone's camera the Twitch app for Android or iOS.
Starting your Twitch Streaming
Broadcasting your live game in Twitch is a whole experience in your gameplay journey. There is a lot to learn how to start streaming on Twitch, so do research. You can inspire other people by starting small and recognizing small victories. There are a lot of new gamers that want to start in Twitch but need someone to have the first step. Engage in broadcasting not only because you want to play and earn but also to inspire other people in starting their dreams.
Maybe your purpose in broadcasting is not only to share your skills in your gaming. You can have a moment to introspect if your truer meaning in engaging with broadcasting on Twitch is to inspire other people. Your content should reflect your values and aspirations.
There are a lot of broadcasters that fail because their only vision is to earn but does not have a vision for their page. Content creators should also care for their audience. Their fans show them love and support. As a broadcaster, they should appreciate all their efforts.
How to be successful in Twitch
Being successful on Twitch is very hard to measure because it varies from person to person. That's why you need a vision for your career and your page. Every content creator has a different path and timeline. You don't need to compare your process with other people. Trust your own process and focus on your goals. There is a community that is rooting for your progress and success. Or if you just want to support Twitch streamers, that's fine too!