Twitch is a video gamer's platform of choice when it comes to streaming. In fact, Twitch is the leading live streaming platform in terms of live video gaming. This is due to their engaging interface both for streamers and viewers. Twitch's streaming services include Twitch Extensions. This is another way to get more fans on twitch too.
Twitch extensions are live apps that interact on a gamer's live stream. This was created in 2017 to help gamers grow their audience and help the Twitch community through interactive broadcasts. Other feature of Twitch extensions includes panels and overlays that increases the viewer's quality of streaming.
Twitch Extension for Twitch Partner and Viewers
Initially, Twitch extensions are only compatible with desktops. Later on, Twitch extensions were made available by the content builder for mobile apps to make them more accessible to a wider audience.
Most Twitch extensions are developed by third parties, all of which are available on the Twitch app. SO, either you are a Twitch partner or a viewer, Twitch extensions are available as long as you have a Twitch account. Your Twitch Mods need to have some of these extensions too!
Categories of Twitch Extensions
Twitch extensions are interactive apps that improve the interaction between streamers and viewers in real-time. Currently, there more than 700 Twitch extensions streamers can choose from. On average, the best Twitch extensions fall in these categories which can be found on the Extensions Discovery page:
Extensions for Games
Games in Extensions
LoyaltyAndRecognition
Music
Polling and Voting
Schedule and Countdowns
Streamer Tools
Viewer Engagement
Under categories also includes types of extensions available, which are:
Bits
Component
Mobile
Overlay
Panel
Purchases
Some Twitch extensions cover multiple types.
Twitch Extensions: Extensions for Games
Extensions for Games are created for specific video games. This means that a specific game has its own equivalent Twitch extension for games. These extensions might include close-ups of a character's build and gear. Additional statistics could also be added to the stream overlay. Extensions for Games have 200 extensions or more to choose from. So, you don't need to worry if your game has a Twitch extension.
Here are some of the games that have specific Twitch Extensions:
Baldur's Gate 3
Borderlands 3
Destiny 2 Armory Overlay
DOTA 2
Hearthstone
League of Legends
League of Runeterra
Path of Exile
Twitch Extensions: Games in Extensions
Extensions that fall under the Games in Extensions category are stand-alone games on extensions. These Twitch extensions help streamers retain and maintain their viewers. During a boring part of a game, viewers could use these games to play while watching a broadcast.
Here are some of the Twitch extensions available under Games in Extensions:
Bithead Arcade
Bithead Arcade allows viewers to play old-school arcade games on your panel while you stream. But, viewers need Bits to play on Bithead Arcade.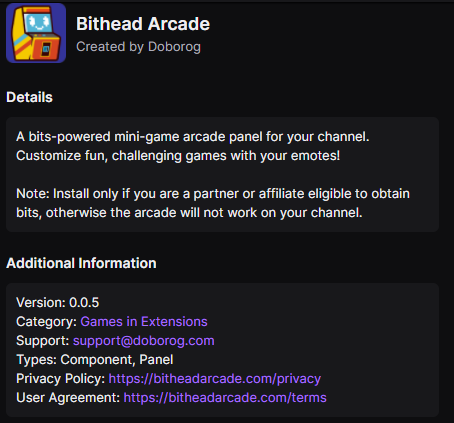 StreamLegends
By using StreamLegends, viewers can build their own town in your channel panel while you stream and play. This is an RPG extension that allows a viewer to quest and build guilds with each other in the community.
Through StreamLegends, broadcasters allow their viewers to become part of their town where they can join in the action.
Stream Mini Games
Mini-game will appear on a panel on top of your screen and lets multiple players use it.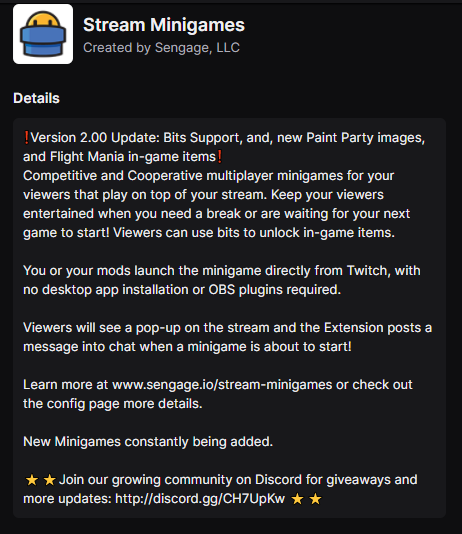 Twitch Arcade
This panel extension provides game and activities to help your viewers engage while watching your stream. Twitch Arcade was created by Amazon Game Studios.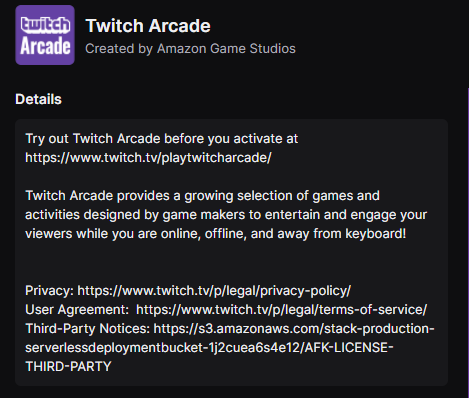 Quiz Kit
Quiz Kit is one of the best Twitch extensions if you want to host your own quiz for your audience. This will keep your audience active in order for them to have the correct answer. It also has ready-made questions released weekly if you don't want to create your own.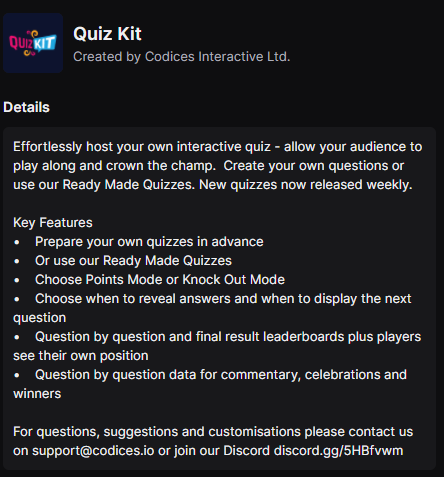 Twitch Extensions: Loyalty and Recognition
Loyalty and Recognition extensions are used by streamers to reward their viewers for supporting their stream. There are approximately more than 45 extensions under the Loyalty and Recognition category. A Twitch extension may include features like leaderboards that present a channel's loyal followers. Some extensions under this category may require the use of Bits in order to show support.
Leaderboard
The leaderboard is one of many ways of using panel extensions that showcase cheerers of your channel at all-time, weekly, monthly levels. The leaderboard is created by Muxy.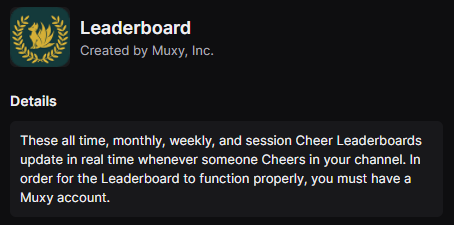 Prime Subscription and Loot Reminder
This Twitch extension is created by Prime Gaming. This extension reminds viewers of their free Twitch Prime channel subscription. Also, using this extension overlay will redirect the viewer in availing their free loot.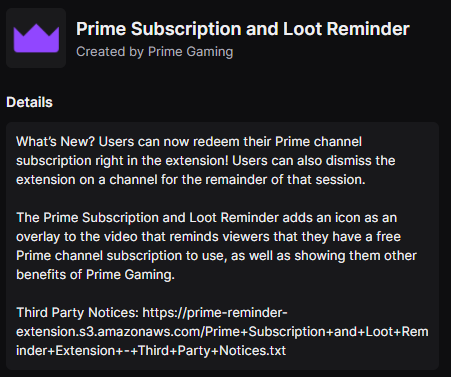 StreamElements Leaderboards
This Twitch extension is one of many ways to tally the loudest cheers, messages, and more from your viewers. Using this Twitch extension helps you keep track of your loyal viewers or subscribers.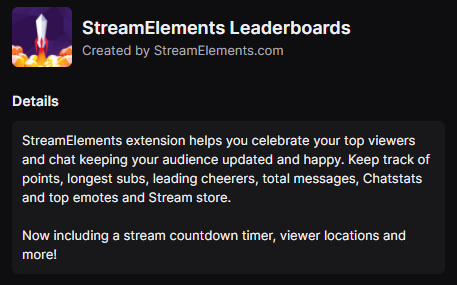 Streamlabs
Using Streamlabs panel extension will enhance the gamer's channel and makes monetization easier. It is considered one of the best Twitch extensions because it is an all-in-one tool where a follower can earn loyalty points, request songs, vote in polls, enter giveaways, and play mini-games. These Streamlabs features increase the possibility that viewers will come back to your channel.
Streamlabs widget extensions are available on Twitch Extension Manager. Some widgets from Sreamlabs include:
Alertbox
Chatbox
EventList
The Jar
Donation Ticker
Donation Goal
Guilds
Loyalty
All-Stars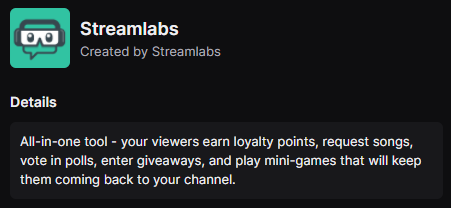 Twitch Extensions: Music
Music extensions on Twitch stream are created to add a personal touch to their broadcast. An extension could allow streamers to take up song requests from viewers and create their own playlists for their viewers.
Amazon Music
This Twitch extension share your music with your viewers on an overlay extension. In using Amazon Music, for your viewers to be able to listen with you, they should also have Amazon Music. Streamers could also add their Amazon affiliate account to earn from referrals.

Spotify Now Playing
The audience will most times ask what song you are currently listening to. The song currently playing could be asked multiple times. To save you energy, use this Twitch extension on your stream so you can remove this from many things you need to look after.

Spotify Recently Played
This is a Twitch overlay extension that provides details of the song the streamers are currently listening to and the previous songs he played. This also allows streamers to create a playlist for people to follow.

Twitch Extensions: Polling and Voting
Polling and Voting extensions are created to ask for feedback from people in your Twitch stream. This type of extension aims to gather input on how to improve a streamer's channel and how streamers should proceed with the game.
Pick my Battles!
This Twitch extension provides a simple voting system for stream viewers. It also has other things to offer like multiple games, characters, and features like filters, messages, and Bits voting. After installing this extension, activate it on Overlay 1.
Currently, it only supports limited games like Valorant, Dead by Daylight, Apex Legends, Super Smash Bros. Ultimate, League of Legends, F1 2020, Rainbow Six Siege, Overwatch, and Dota 2.

Suggestion Box v2
This is a stream extension that gathers opinions from your viewers. This keeps track of suggested improvements for your channel other than chat.

Twitch Picks
This stream extension is developed by Amazon Game Studios. It allows Twitch streamers to display customized polls and quizzes to their community.
Some features of Twitch Picks are, first, people can vote more than once in exchange for Bits. Second, poll results could be hidden from their viewers. Lastly, background design could be customized to fit your channel's brand image.

Twitch Extensions: Schedule and Countdowns
Extensions that fall under the Schedule and Countdowns category help streamers share their streaming schedule. It could show countdown timers or event calendars.
Streamlabs Stream Schedule & Countdown
This stream extension works as a panel extension. Activate it by setting a schedule for your next broadcast in the Configuration panel. If a streamer is planning on taking a break, they could set a return date so fans would know when they will be back.

Weekly Schedule
The unique feature of this stream panel extension is that it can detect the viewer's preferred language and adapt to it. This is an international scheduling panel extension with the same goal as other stream schedule panel extensions. It displays the broadcast schedule in one simple list. It automatically adjusts the viewer's language and time zone.

Twitch Extensions: Streamer tools
Streamer tools panel extensions are developed to enhance the stream. Extensions under this category could offer affiliate revenue to gamers and could also include an opportunity to sell their own merchandise.
Panel extension on Twitch for Streamer tools can provide the audience a more personalized viewing experience. There are more than 120 extensions under this category.
Amazon Blacksmith
Amazon Blacksmith is also known as Gear on Amazon. It allows Twitch Affiliates and Partners to display a list of gaming gears they use on their stream. The list is shown as a panel extension on their page. They could customize the background and text color that match their channel's design.
The list on the panel shown gives their viewers an idea of the equipment they use. Also, they could earn through affiliate links on the list if people want to buy the same set of gears. They earn through referral fee for all products their fans bought on Amazon as they click through the Amazon list on someone's channel.

Design By Hümans Merch Store
This panel extension creates custom merchandise for the channel. These component extensions also allow the community to browse and order right in your stream.
Dynamic Follow Buttons
Dynamic Follow Buttons panel extension gives viewers a direct call-to-action for following you or other channels.
Even during the live stream, broadcasters can change the list of channels they want to promote on the panel.
Exclusive Content for Subscribers
As its name says, this extension allows streamers to create exclusive content for subscribers only on their Twitch channel page.
Their subscribers will be able to view members-only videos, images, and posts the streamer creates on their Twitch account.
Creating posts for your viewers is free and easy. Just visit your extension config page and create your content with the extension's content builder. Your post will then be available in your panel for your subscribers. One way to locate the extension config page is to go on the 'My Extensions" menu and click the COG wheel icon.
Non-subscribers will see a message that encourages them to subscribe to have access to your content.
Instagram Feed
This is a panel that displays your most recent Instagram pictures below your stream.
My Wishlist
This extension allows the community to view your Amazon wishlist information on your page. This is one of the best video extensions, if you have a generous fan they could buy and send those items on your wishlist as a gift. By earning on affiliate links, you will also be part of their affiliate advertising program.
OWN3D Design Panels
OWN3D provides a wide range of design packages. Their design packages enhance the overall look, mood, and sound of your channel. Streamers can look for the best combination that best fits the needs of their channel. Their packages include:
Overly
Alerts
Webcam Overlay
Intermission Banner
Panels
Talking Banner
3x Twitch Emotes
Features included depends on the package the streamer will purchase.
Stream Closed Captioner
One way to easily increase the accessibility of your broadcast is by adding Closed Captioning for your viewers. Viewers can hide the text information or change the text chat size from small/medium/large sizes and drag it around the screen so it doesn't block things on the main screen. All you have to do is to add this feature to your "My extensions".
Teespring Merch Store
A streamer will be able to display his merchandise and make sales while playing a video game. There is also an option to release subscriber-only merch. This is well integrated with Twitch, so if someone bought your merch they will not be redirected to a new tab for checkout. This is because the checkout will be done immediately on the Twitch tab.
Twitter Timeline
This extension keeps your viewers updated by showing your latest Tweets directly on your channel. Twitter Timeline extension supports images, playable videos, and animated GIFs; full 280 characters, retweets, interactable links, and light/dark themes.
Viewer Geolocation
Viewer Geolocation extension tally the number of your audience from each country who are currently watching your stream. It has two display modes. First, the ranking display mode, and the second one is the live feed display mode.
Twitch Extensions: Viewer Engagement
Extension for viewer engagement is developed to increase the involvement of the community on the streams. In more than 200 viewer engagement types of extension, most of it requires Bits to utilize. This will help gamers monetize their broadcast.
Washington Post News Ticker
Twitch also features non-gaming materials which can be seen on this extension. This extension is a way to allow a channel's viewer to stay updated with the news while watching a stream. One can right-click on a headline to read the full story.

Sound Alerts
This extension is a way to allow your viewers to play sound effects on your stream to celebrate special moments. Streamer can upload their own sounds or select sounds from the library. Optionally, they can set Bits or Channel Points for your Sounds Alerts. So, for this extension to work, the audience needs Bits.
Bits will be added towards user's Bits chat badges and Bits leaderboard. Each time a Sound Alert is played, an overlay and chat notification will appear.
Latest Followers
The latest followers extension puts a panel and overlay screen list of a streamer's new followers that flash their icon and screen name. The extension also counts the total follows a channel streamer got from the first time it started streaming on that day. 'Latest Followers' has Bits-enabled features.
LiveExchange: Virtual Goods
In this extension, you will create a virtual item for your viewers. These items can be purchased using Bits. This is a way to promote competition in a streamer's community by having a leaderboard of who has the most purchases.
LiveGallery: Image Library
This is a photo album extension on your Twitch channel. A streamer can monetize their image gallery. They can set the number of bits that a viewer must send in order to upload an image to their gallery panel. The Bits a follower sent also accumulates to their Bits chat badge and Bits leaderboard.
Blerp
Blerp is an extension that lets gamers produce a type of sound emotes, or even voice recordings. Bits can be used by viewers to purchase sound emotes and be played during the game.
Stream Avatars
Stream Avatars is an extension that enables viewers on a channel page to be represented with a type of avatars and gear images that a streamer imports. The panel is a user interface for viewers to control and customize their avatars.
Stream Stickers
This is an overlay extension that allows viewers to put stickers on your Twitch channel stream. There are many types of stickers they can choose from. Bits are needed to use this feature.
Emotes Showcase
It flashes emotes on your game that is available on your Twitch channel. You don't need to update every time because it has an auto-update feature. So, if you added a new emote on your channel it will appear almost immediately.
GIPHY
GIPHY allows your viewers to flash some GIFs and stickers overlay on your screen. The streamer will set on which part of the screen the GIFs will be posted.
Free Streams Alerts
This is a type of extensions manager that notifies the streamer every time someone follows, subscribes, or cheers on their channel page.
Crowd Control
Streamer's viewers can take control of the game using this extension. Viewers exchange Bits or Channel Points for coins through Crowd Control. Coins activate in-game items and effects.
Build an Extension
Twitch extensions give developers an avenue to use their skills in creating a better Twitch community. Building a type of extension is a way to help strengthen a community. It is also a way of creating new interactions. Building an extension could be your way to grow your game. Lastly, it could be one of many things on how you build your business.