Twitch Tags are used to help streamers describe their streams and categories. There are a lot of streams every day, using Twitch tags will filter the content the viewers want. Instead of writing a long essay of what your play is about, tags are used to describe briefly your content.
Users can use these Twitch tags if they want to find something interesting to watch. Viewers have different preferences. So, they can use Twitch tags as a guide by filtering streams and categories within the directory.
How to use tags on Twitch
In using tags, you need to make sure that you are using the correct tags. In fact, tags should really be connected to what really your content is.
Follow these steps to use Twitch Tags
First, click your profile icon on the upper-right corner of the screen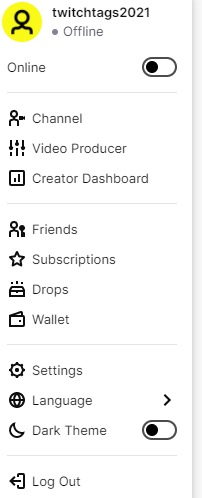 Then, select the category of your stream.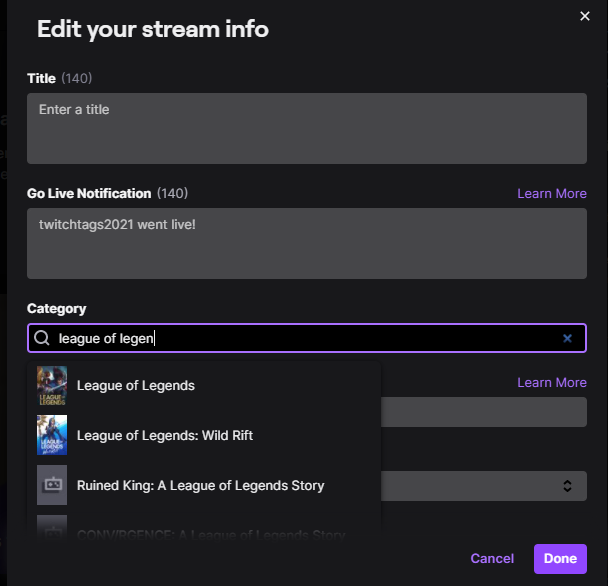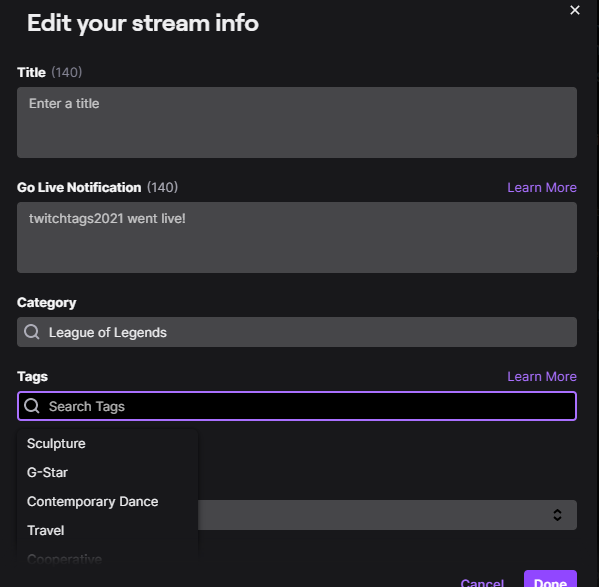 Twitch Tags: Categories
There are three tag categories you can choose from to describe your online live streaming. Viewers can search for competitive games, the language of preference, streamer live-playing Fortnite, a streamer who is best in cooking, and other best content. To know more, here are the categories and their usage.
Stream Tags
These tags are what streamers and channel editors apply which can be used up to five times.
Some stream tags may only be applied by channels that meet the qualifying conditions.
Category Tags
Category tags describe the stream's genre. These tags can't be applied directly to the stream. This can be placed on the Category field of the stream when going live.
Automatic Tags
Automatic tags can't be applied directly by content creators or channel editors. These are automatically applied to the stream as they meet certain conditions.
List of Twitch Tags
Stream Tags
First, Stream tags. Here is the list of stream tags you can
For streams with an objective of completing the game 100%
12 Hour Challenge
3D Modeling
3D Printing
Achievement Hunting
All Bosses
AMA
American Football
Analysis
Animals
Animation
Anime
Search for this tag to watch streams that put emphasis on the Japanese style of arts
Anniversary
Any%
APAC Server
Area Control
Arena
Search for this tag to watch streams that use Arena gameplay mode
Art Commissions
Auditory ASMR
Automotive
Backseat Gaming Allowed
Baking
Balance Training
Ballroom Dance
Basketball
Beginner Players
Search for this tag to look for those streaming that put emphasis on low-skill level players and newbie players.
Behind the Scenes
Birthday
Blind Playthrough
Blindfolded
BlizzCon
Blues Music
Body Painting
Brewing
Brickbuilding
Business
Campaign Planning
Cash Game
Casual Playthrough
Ceramics
Challenge Run
Character Creation
Charity
Search for this tag when browsing for streams that raise funds for a charitable cause
Classical Music
Closed Captions
Co-Stream
Search for this tag to look for streamers that rebroadcast another live channel's content and providing additional comments over it
Coaching
Coloring
Comics
Competitive
Composing
Contemporary Dance
Convention
Cooking
Cooperative
Cosplay
Country Music
Crocheting
Cross-Stitch
Deck Construction
Design
Search for this tag for streaming the process of designing an object or a system
For streams that emphasize the creation of digital art or creative works on digital mediums.
DJ
Draft
Dragon Con
Drawing
Dreamhack
Drones
Duos
E3
Early Access Play
Easy Mode
Editing
Educational
Epic Level Characters
Esports
Viewers search for this tag to look for an example of channels that have been verified as an official broadcaster of an eSports event
EU Server
Evil Characters
Exploration
Extra Life
Viewers search for this tag to support streams that participate in the ExtraLife fundraising campaign for Children's Miracle Network Hospitals
Search for this tag to look for an example of streams that are suitable for family watching where there could be little to no horror scenes or swearing.
Fan Art
Fantasy Sports
Farming
Fashion
Festival
FGC
Fiber Arts
Filming
Finance
First Playthrough
Fishing
Fortune Telling
G-Star
Awards
Development
Jam
Game Show
GameBlast
Gamescom
Gaming News
Gardening
GDC
Gen Con
Glasswork
Glitch Hunting
Glitched
Glitchless
Good Characters
Graphic Design
Hair Styling
Hard Mode
Hidden Identity
High Score Attempts
Hiking
Hip Hop Dance
Hip Hop Music
History
A streamer use tags like history to search for Twitch creators streaming discussion about past events
Illustration
Improv
Inking
Interviews
Jazz Music
Jewelry Making
KeyCaps
Knitting
KR Server
League
A viewer search for this tag to watch streamers that regularly compete with each other
Leatherwork
Let's Play
Lettering
Level Design
Leveling
LGBTQIA+
Streamers use tags like this to identify as a member or ally of LGBTQIA+
Live Vlogging
Low%
Ludum Dare
Magic Tricks
Makeup
Marathon
Match Commentary
Use this tag when streaming a commentary on a competitive match
Meal Prep
Meme Runs
Mental Health
Metalwork
Mid Lane
Mindfulness
Miniature Figures
Mixed Reality
Mixology
Viewers use tags like these to look for an example of streamers who broadcast anything related to the production of cocktails or mixed drinks
MMA
Mobile Development
Modded
Mode: All Pick
Mode: ARAM
Mode: Battle Royale
Mode: Blackout
Mode: Campaign
Mode: Creative
Mode: Save the World -in Fortnite
Mode: Zombies
Movement Training
Multi-Table Tournament
Multiplayer
Use tags like multiplayer when playing a multiplayer game mode
Music Performance
Music Production
NA Server
Nail Art
Neutral Characters
News
NG+
No Backseat Gaming
No Damage
No Limit
No Major Glitches
No Out of Bounds
No Spoilers
Off Lane
Omaha Hold'em
One-Shot Adventure
Original Work
Outdoors
Pacifist Run
Painting
Papercraft
Party Game
PAX
PB Attempts
PC Building
Perler
Permadeath
Persistent Campaign
Photo Mode
Photography
Pixel Art
Plants
Playing with Viewers
Poker Mixed Games
Politics
Pop Culture
Pop Music
Pot Limit
Practice
Programming
PvE
PvP
Pyrography
Quilting
R&B Music
Racing
Radio
Raid Content
Randomizer
Ranked
Reading Aloud
A viewer search for this tag when you want an example of the performance of narration of written works
Retro
Robotics
Rock Music
Rockets
Role: Carry
Role: Jungler
Role: Support
Roleplay
Roll and Move
Routing
Scale Modeling
Sculpture
Sewing
Shopping
Singing
Singleplayer
Sit & Go
Skateboarding
Skincare
Soccer
Social Eating
Software Development
Solos
Speedrun
Spoilers Allowed
Squads
Search for this tag to stream Squads gameplay mode
St. Jude
Stack Up
Standup Comedy
Strength Training
TAS
Tattooing
Texas Hold'em
TGS
Theater
Top Lane
Tournament
use this tag when streaming a competitive game between multiple teams or individuals
Traditional Art
Traditional Dance
Travel
Twitch viewers who want to explore and enjoy watching adventures IRL search this tag
Tutorial
TwitchCon
Unboxing
Unmodded
Vector Art
Visual ASMR
Voice Acting
VR
Wargame
use this tag to stream on Twitch games that involve military tactics, strategy, and operations
Warming Up
Warpless
Weather
Web Development
Woodwork
Worker Placement
World Music
WR Attempts
Wrestling
Writing
Category Tags
Second, Category tags. Here is the list of category tags to set the genre of your stream:
4X
Action
Adventure Game
Card & Board Game
Compilation
Creative
Driving/Racing Game
EGX
Electronic Music
Emote Design
End Game
Endurance Training
Engineering
Fighting
Flight Simulator
FPS
Gambling Game
Hidden Objects
Horror
Indie Game
IRL- for example of IRL video streams
Metroidvania
MMORPG
MOBA
Open World
Pinball
Platformer
Point and Click
Puzzle
Rhythm & Music Game
Roguelike
RPG
RTS
Series: Souls
Shoot 'Em Up
Shooter
Simulation
Sports Game
Stealth
Strategy
Survival
Visual Novel
Automatic Tags
Third, Automatic tags. Here are tags that might be automatically applied to your stream upon qualifying to some conditions:
American Sign Language
Arabic
Arena
Arena (0 Wins)
Arena (1 Win)
Arena (2 Wins)
Arena (3 Wins)
Arena (4 Wins)
Arena (5 Wins)
Arena (6 Wins)
Arena (7 Wins)
Arena (All)
Bulgarian
Casual
Catalan
Champion: Aatrox, Ahri, Akali, Alistar, etc.
Chinese
Chinese (Cantonese)
Class: Druid, Hunter, Mage, Paladin, etc.
Czech
Danish
Dutch
English
Finnish
French
German
Greek
Hero: Ana, Hero:Bastion, Hero:Brigitte, etc.
Hindi
Hungarian
Indonesian
Italian
Japanese
Korean
Language: Other
Malay
Map Agency, Map Assault, Map Austria, etc
Missions (Knights of the Frozen Throne)
Norwegian
Players Left: 0-25
Players Left: 26-50
Players Left: 51+
Polish
Portuguese
Ranked (1), Ranked (12), Ranked (7), etc.
Ranked (Legend)
Romanian
Russian
Slovak
Spanish
Squad Stream
Subscriber Stream
Swedish
Tagalog
Tavern Brawl
Thai
Turkish
Ukrainian
Vietnamese
Benefits of using tags
Using tags is beneficial for the live streamer and Twitch users. Tags make searching and filtering content more efficient for both of them. We cover this topic and many others if you are trying to get more viewers on Twitch.
Benefits of using tags to streamers
Streamers may use stream tags to describe their video, language, and more. This will let their audience know what their stream is about. This could also increase their viewership by attracting new viewers who search for categories available in their stream. There are so many things you need to know to be successful on twitch!
Benefits of using tags to the Twitch Community
The community has thousands of streams to choose from every day. If they search for a tag of their choice, they narrow down the streams available that fit their preference. Similar to the search bar on Youtube, they search for content that best fits their current stream cravings.
Number of Twitch tags
The list of tags is managed by Twitch. New tags data are regularly added from time to time depending on the feedback of the community of what tags need to be included. You can look for new tags on Twitch's website.
If you'd like to add a specific tag, give feedback to Twitch's Tags and Categories Suggestion Form. Your feedback will be used to determine what tags are to be added to the directory.
Viewers and streamers could easily chat and navigate the best post or content for them using the site directory when searching tags, or browsing posts.